CAULIFLOWER PIZZA COVER - VEGETARIAN (2 per pack) 240g
Garantiert SAFE Checkout
Bye bye carbs, hello healthy pizza!
Made with 67% cauliflower, eggs, cheese and flaxseed.

98% less carbohydrates than traditional wheat pizza.
3g net carbohydrates per whole pizza crust.
1 package contains 2 pizzas
Keto-friendly, grain-free and gluten-free
Available in 1-pack (2 crust), 2-pack (4 crust), 4-pack (8 crust), 6-pack (12 crust)
Subscribe and save 10% - keep it in the freezer for a quick (and healthy) meal.
Allergens: whole egg powder, milk (from cheese)
We ship on Monday and Tuesday.
Damit deine Produkte am Montag versendet werden, bestellst du am besten bis Samstag 12 Uhr MEZ Damit deine Produkte am Dienstag versendet werden, bestellst du am besten bis Montag 12 Uhr MEZ
Pro tip: This pre-baked vegetarian pizza is the perfect low-carb base for your next gluten- and grain-free pizza, quesadilla or nachos.

Questions about shipping? Visit our FAQ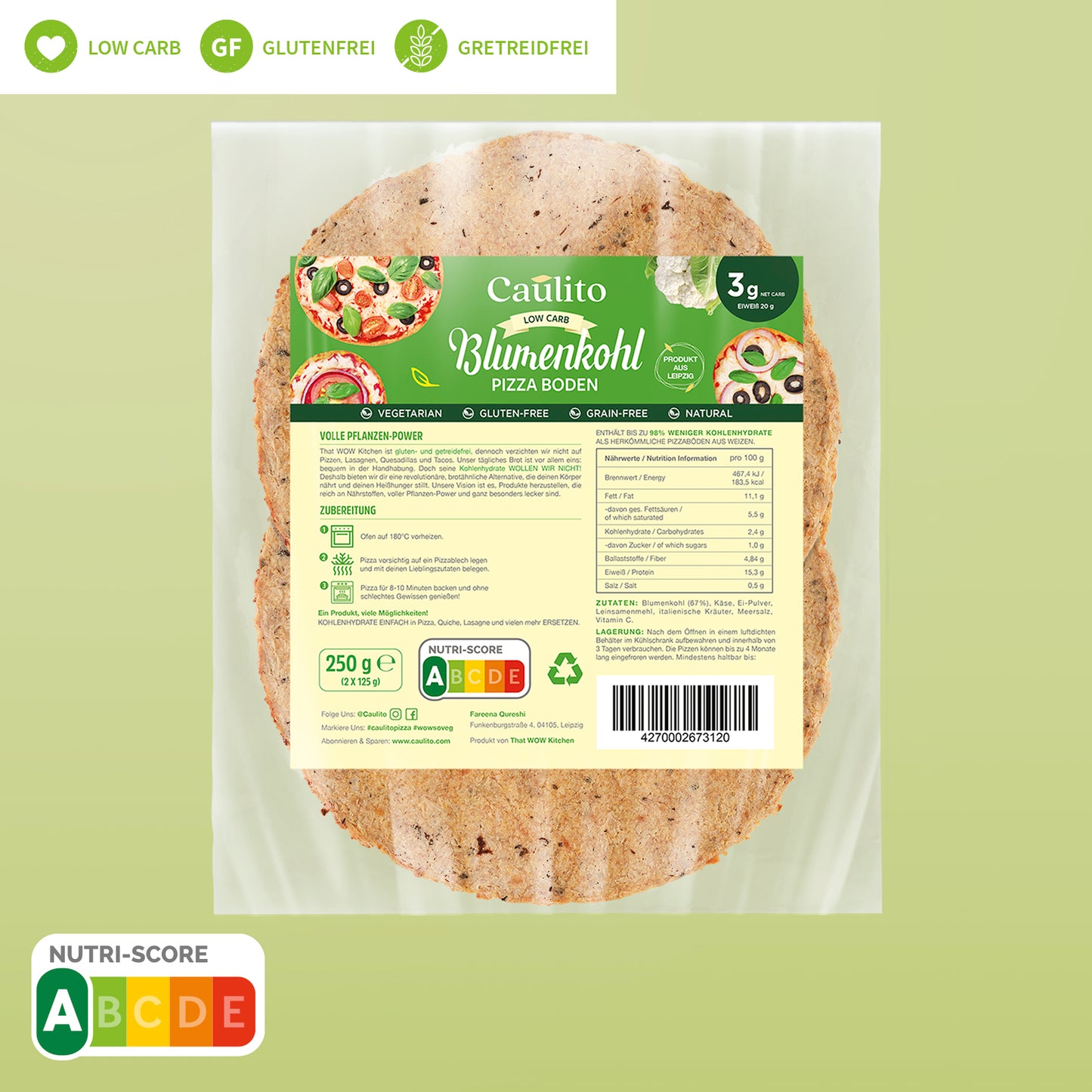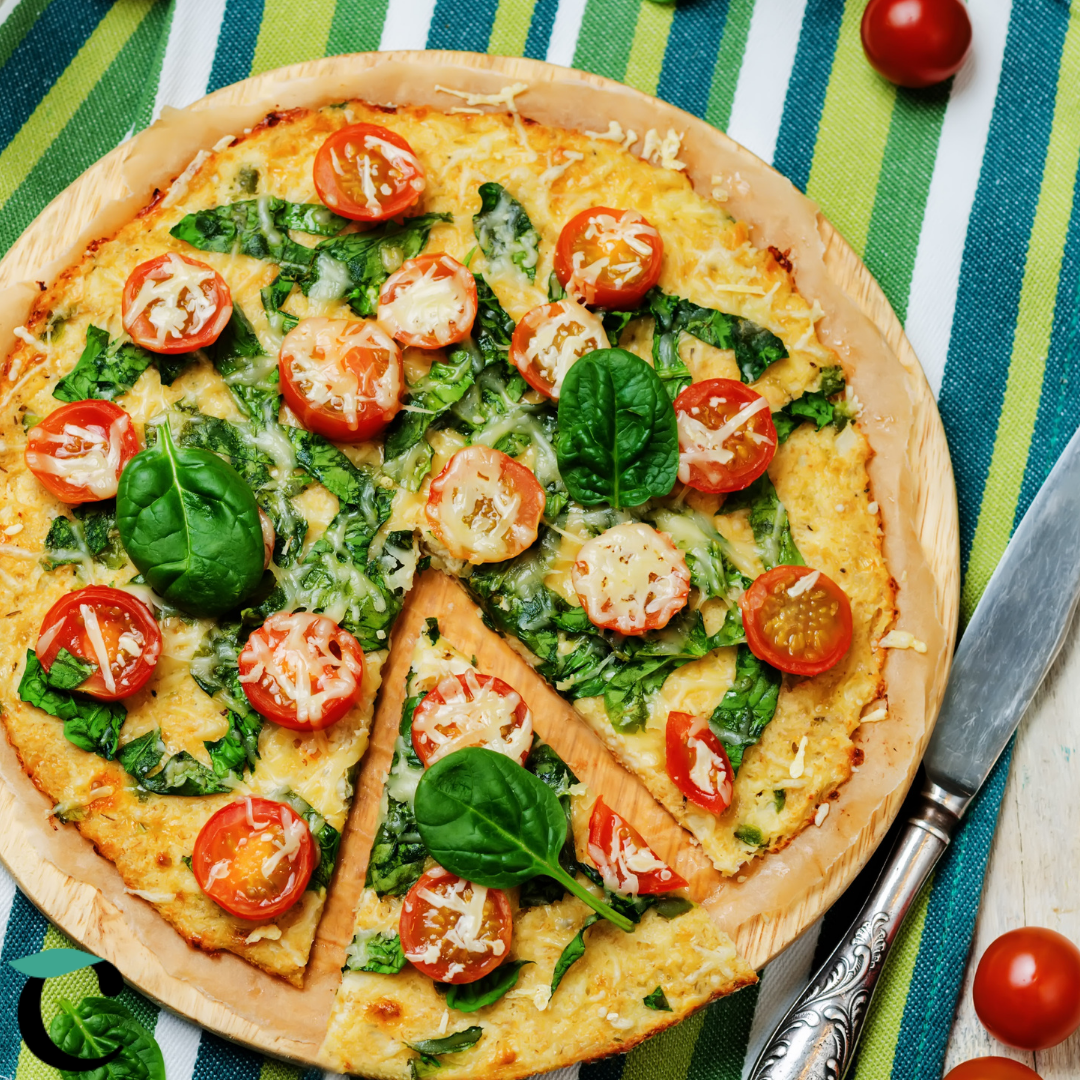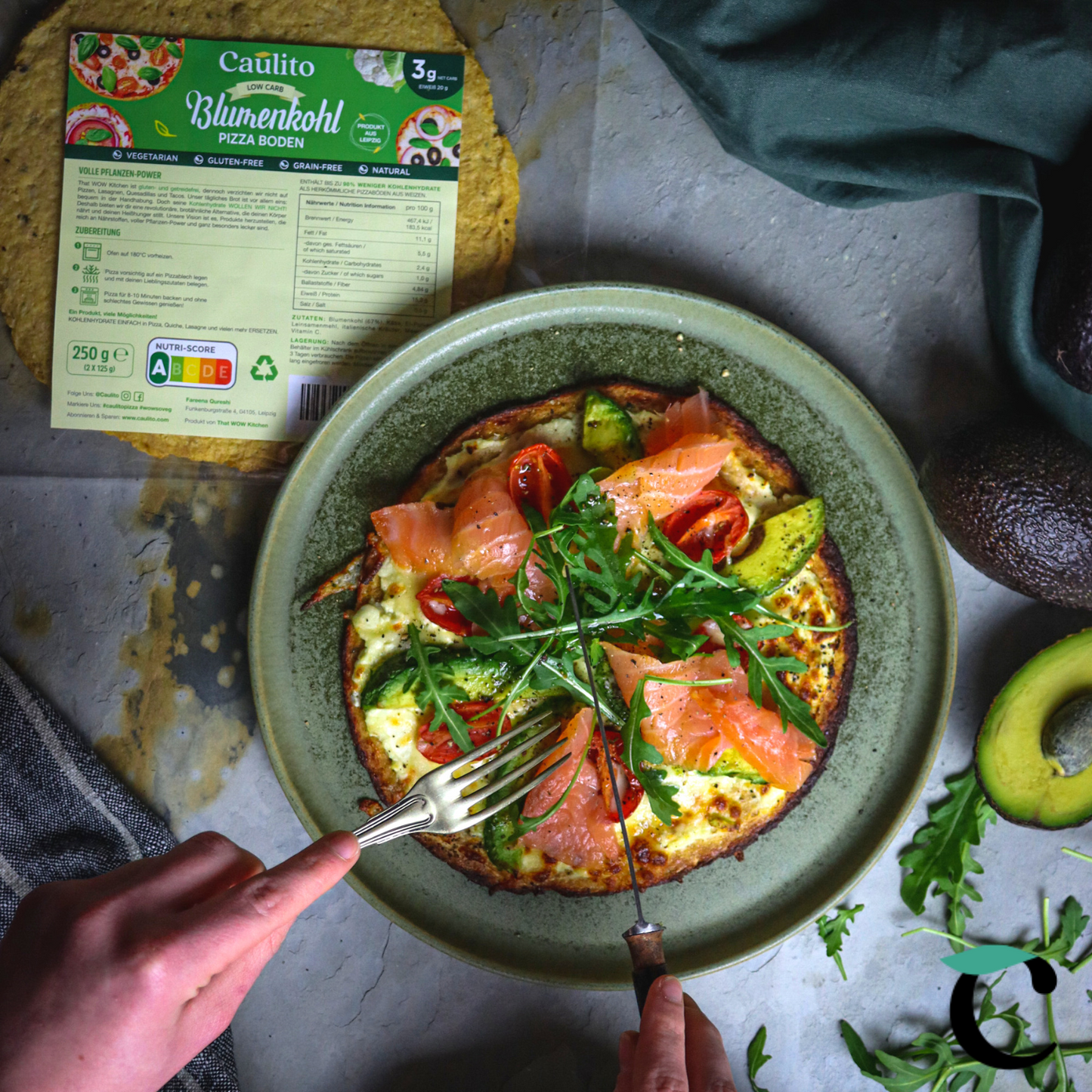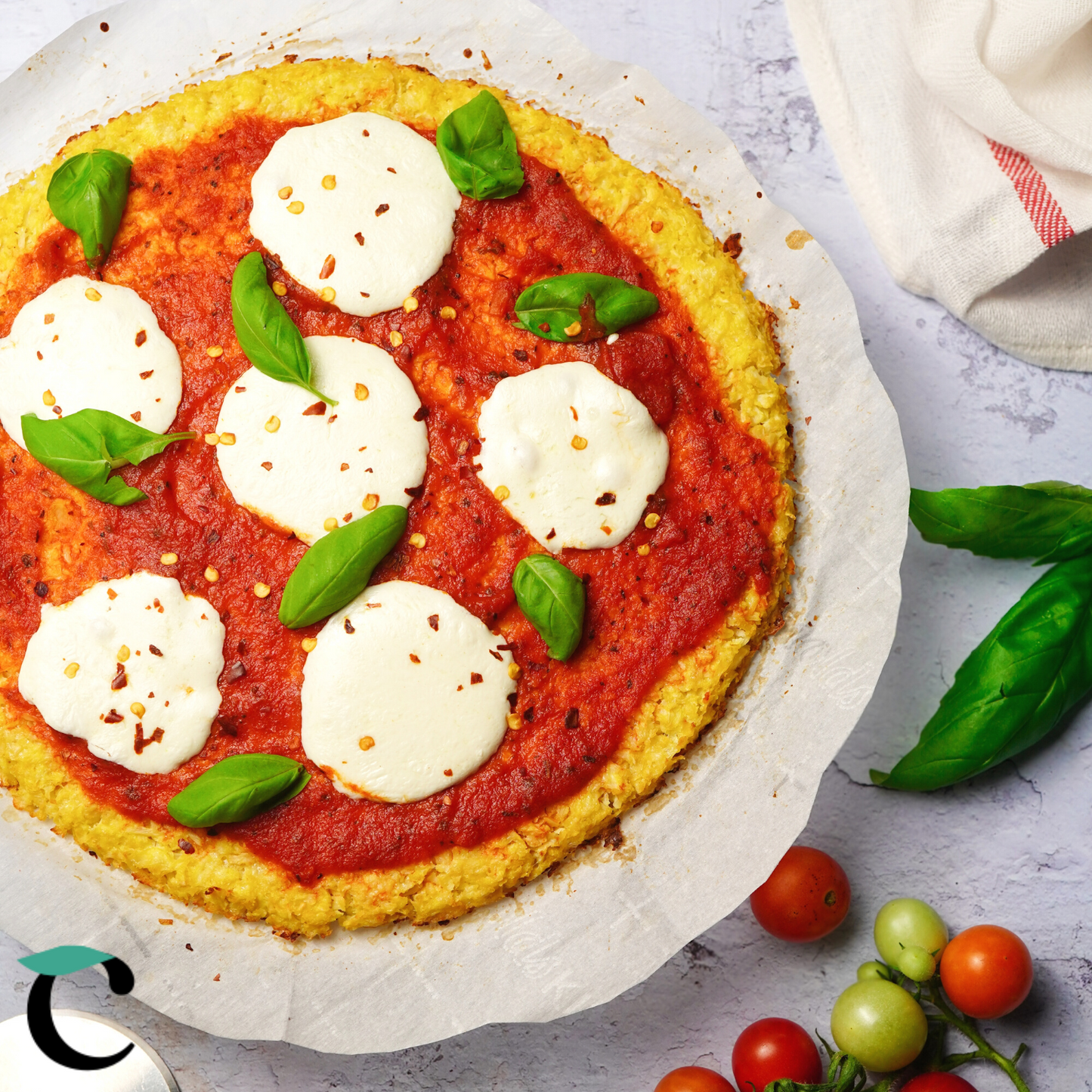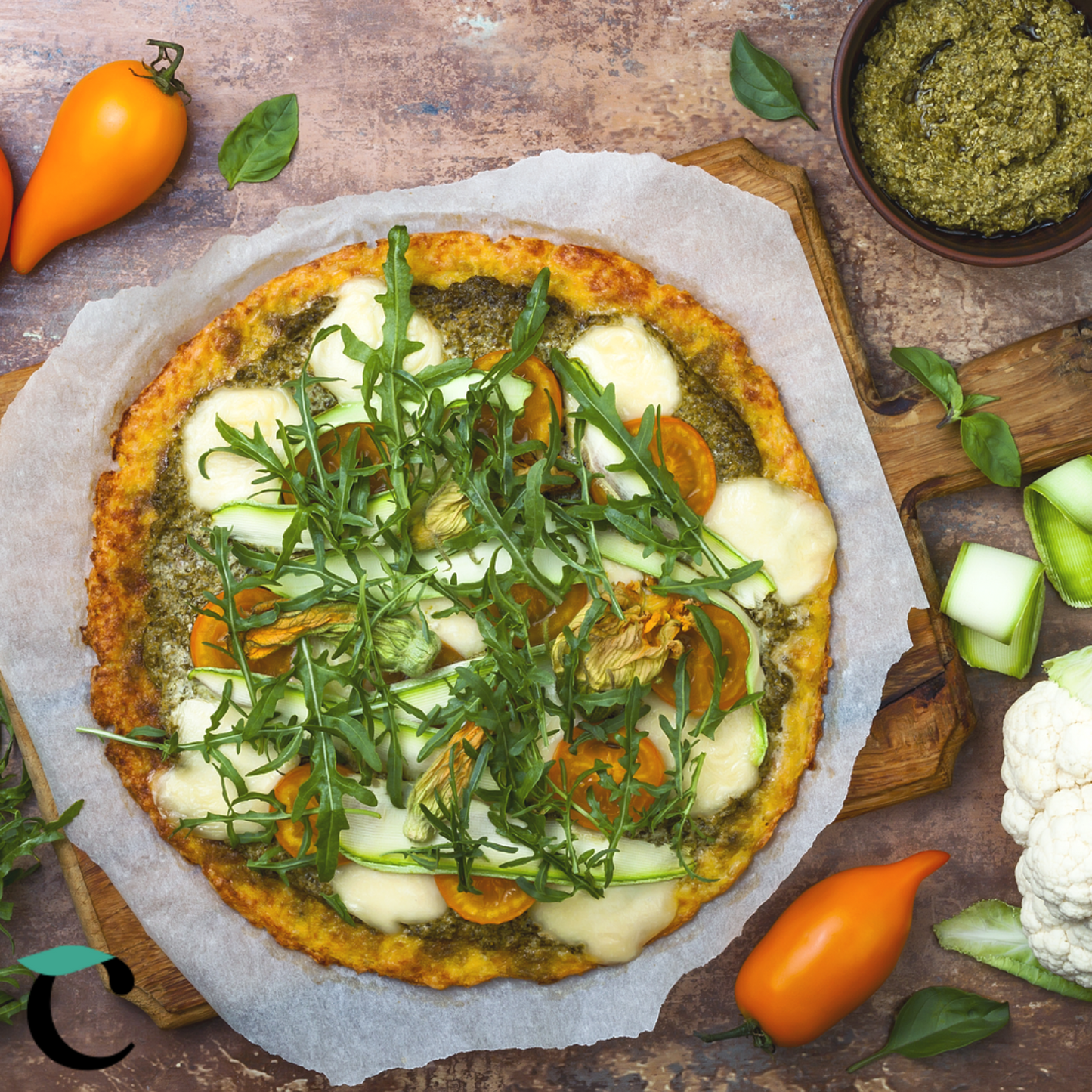 Tolle Alternative
Super leckere Alternative zum klassischen Pizzaboden
Pizzaböden
Sehr praktisch wenn es schnell gehen muss, guter Geschmack
lecker
sehr leckeres Produkt , habe mir sofort eine neue Lieferung bestellt...es schmeckt gut und sättigt, frisch ist sieht sehr knusprig aber aufgewärmt auch sehr lecker....leider etwas teuer sonst würde ich es öfters bestellen ...
Sehr lecker!
Endlich gesund "sündigen". Schmecken belegt sehr lecker und man kann ohne zu verzichten ein bisschen Pizza Geschmack erleben. Auch für mich als gluten allergiker super geeignet.
Sehr gut und danke für die extra goodies
Ingredients:
Cauliflower (67%), Cheese, Egg Powder, Flaxseed Flour, Sea Salt, Italian Herbs, Sea Salt, Vitamin C
| | |
| --- | --- |
| Nutritional Values/Nutrition Information | per 100 g |
| Brennwert/ Energy | 459,2 kJ / 183,3 kcal |
| Fett/ Fat (g) | 10,8 g |
| -davon ges. Fettsäuren/ of which saturated | 5,3 g |
| Kohlenhydrate / Carbohydrates | 2,3 g |
| -davon Zucker/ of which sugars | 1,0 g |
| Ballaststoffe / Fiber | 4,74 g |
| Eiweiß / Protein | 15,0 g |
| Salz / Salt | 0,5 g |
Das könnte dir auch gefallen