CAULIFLOWER TOASTIES - VEGAN (6 per pack) 240g
Garantiert SAFE Checkout
The REAL LOW CARB bread alternative!
Made with 57% cauliflower, flaxseed, sunflower seeds, coconut, chia seeds and psyllium husks.

2 g net carbohydrates per toastie.

96% less carbohydrates than regular white bread.

1 serving of vegetables per toastie
1 package contains 6 toasties
Keto-friendly, grain-free and gluten-free
Without soy
Free of nuts
Free of gums, which are often used as binders and thickeners
Nothing artificial - Nothing - Nada! That's a promise
We ship on Monday and Tuesday.
For guaranteed Monday shipping, please order by Saturday 12:00 CET.
For guaranteed shipping on Tuesday, please order by Monday 12:00 CET.
Pro tip: Simply heat in the toaster or oven for a crispy treat.

Get answers to your subscription questions here.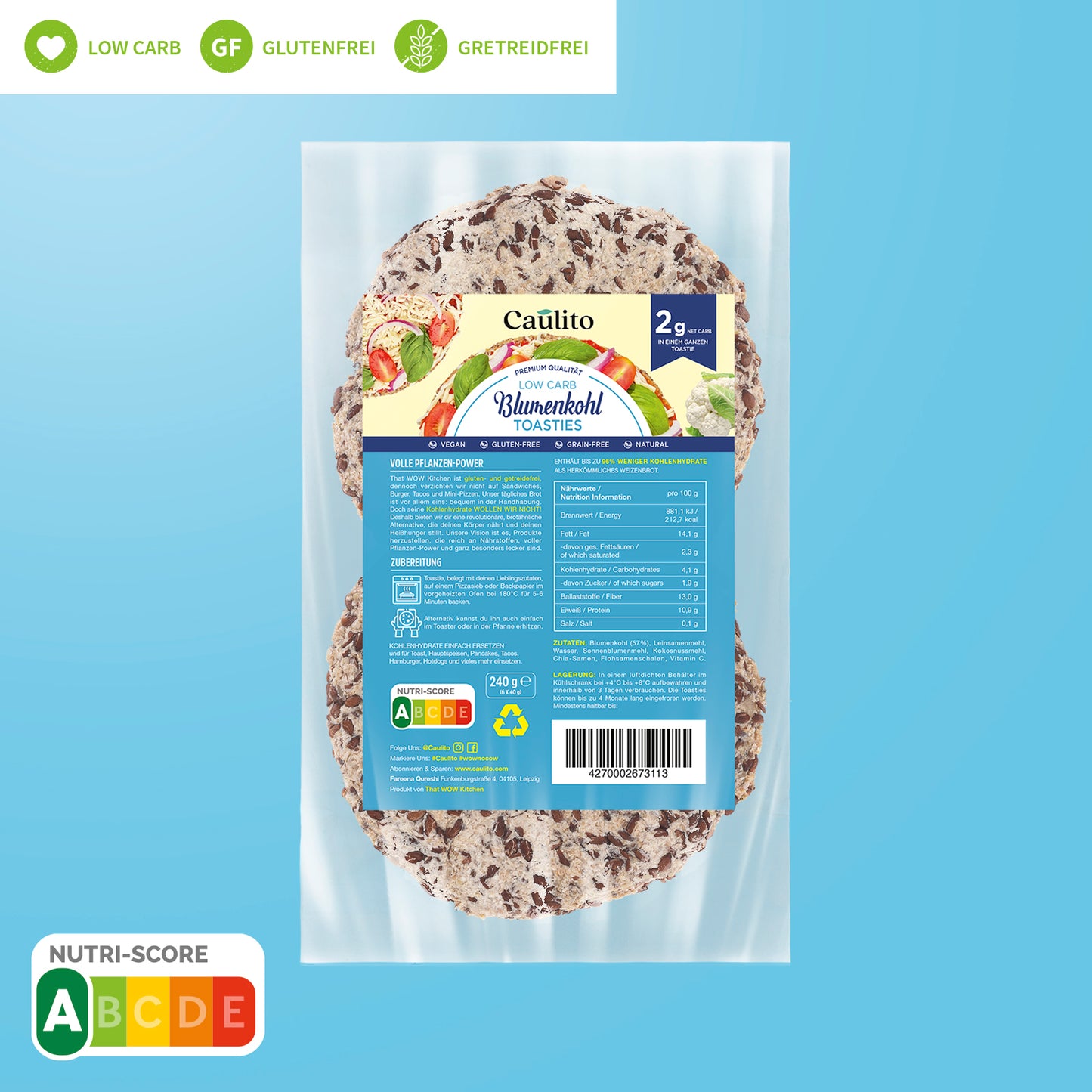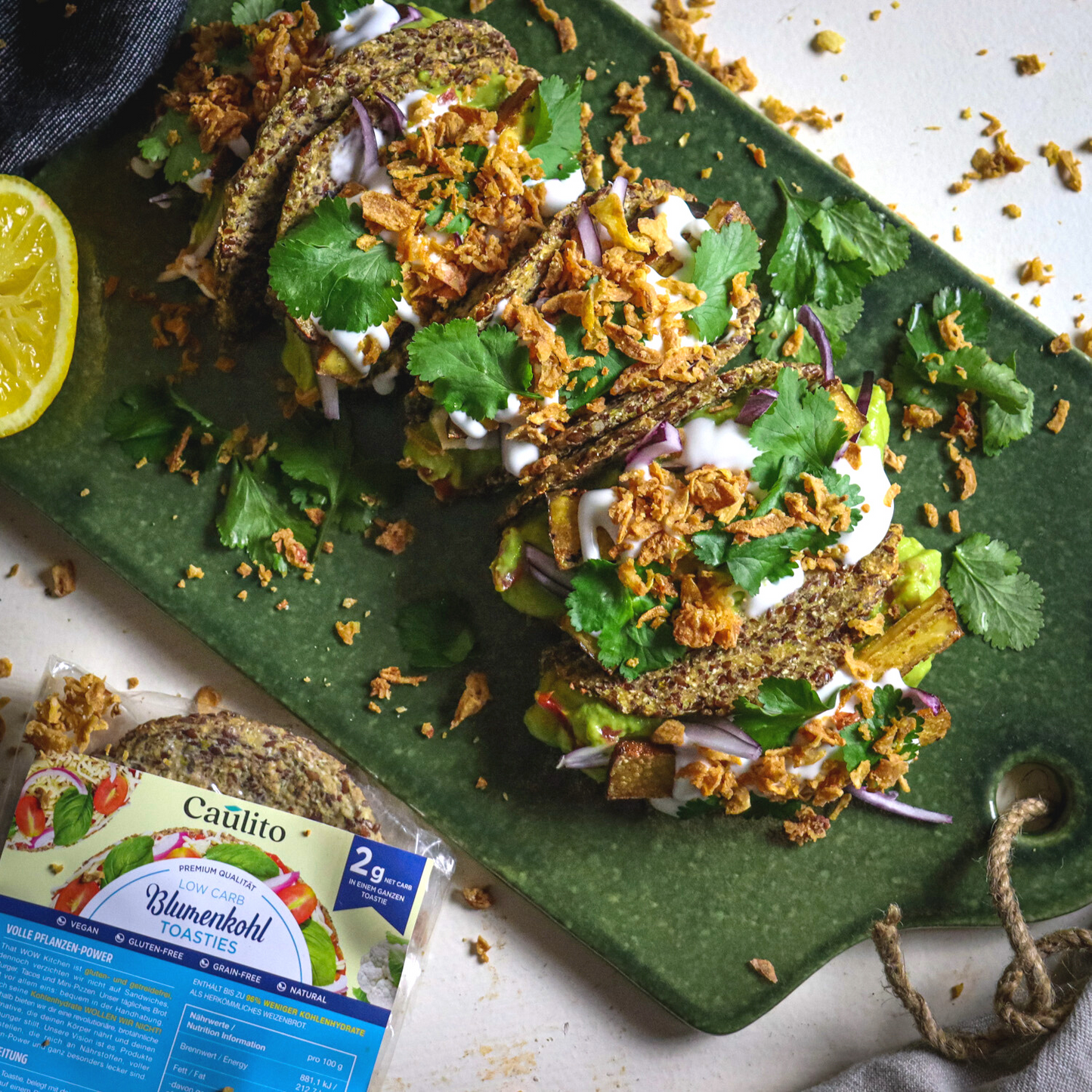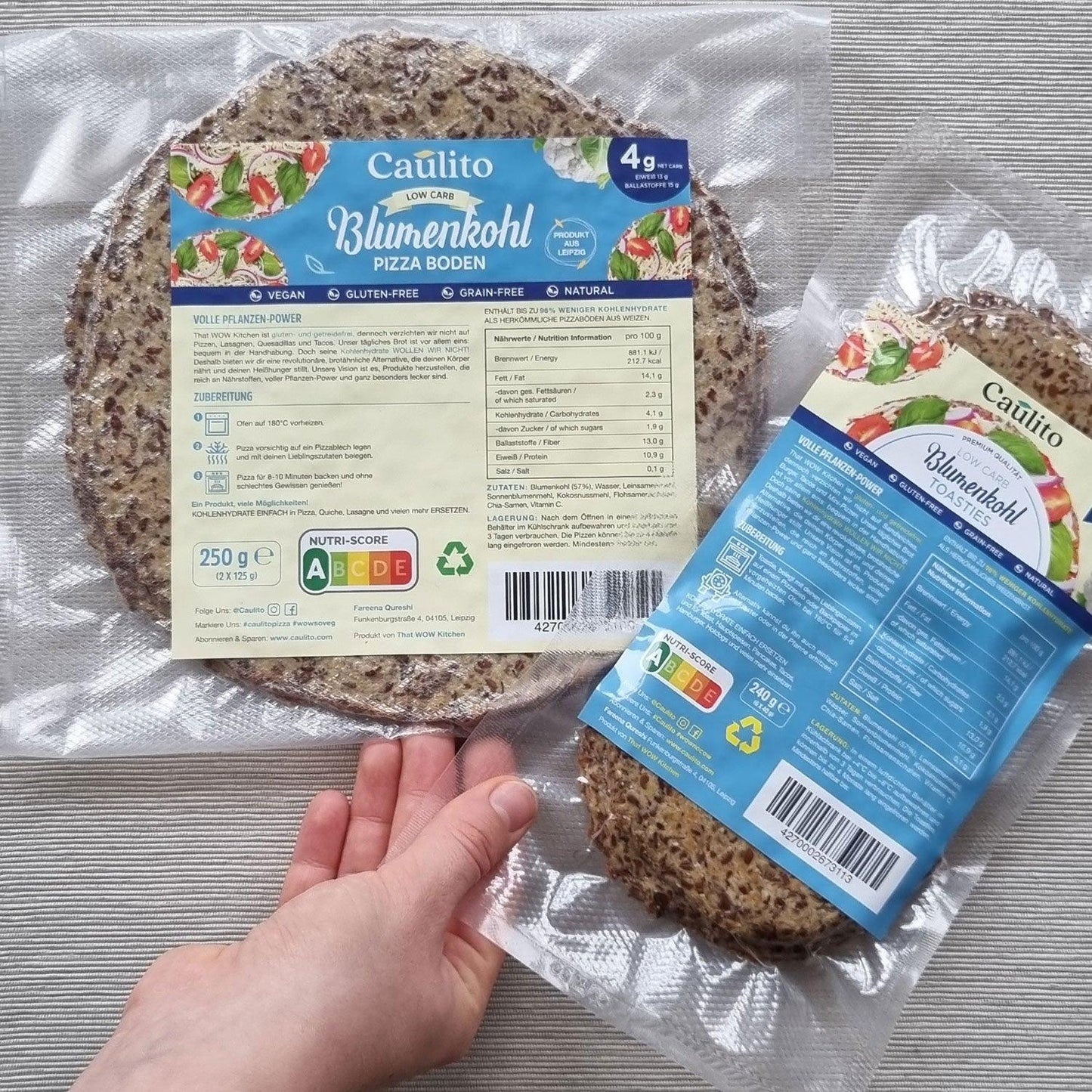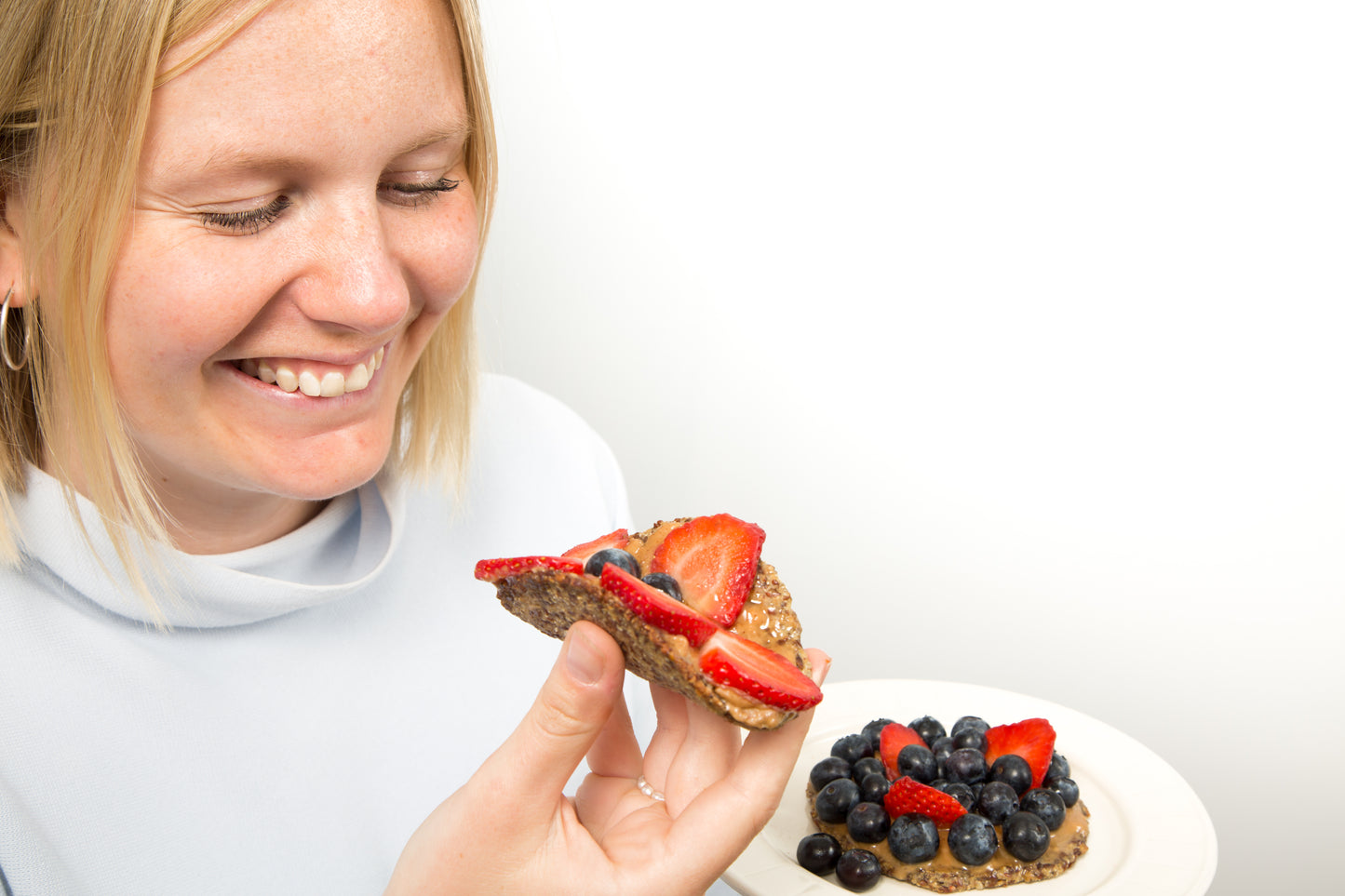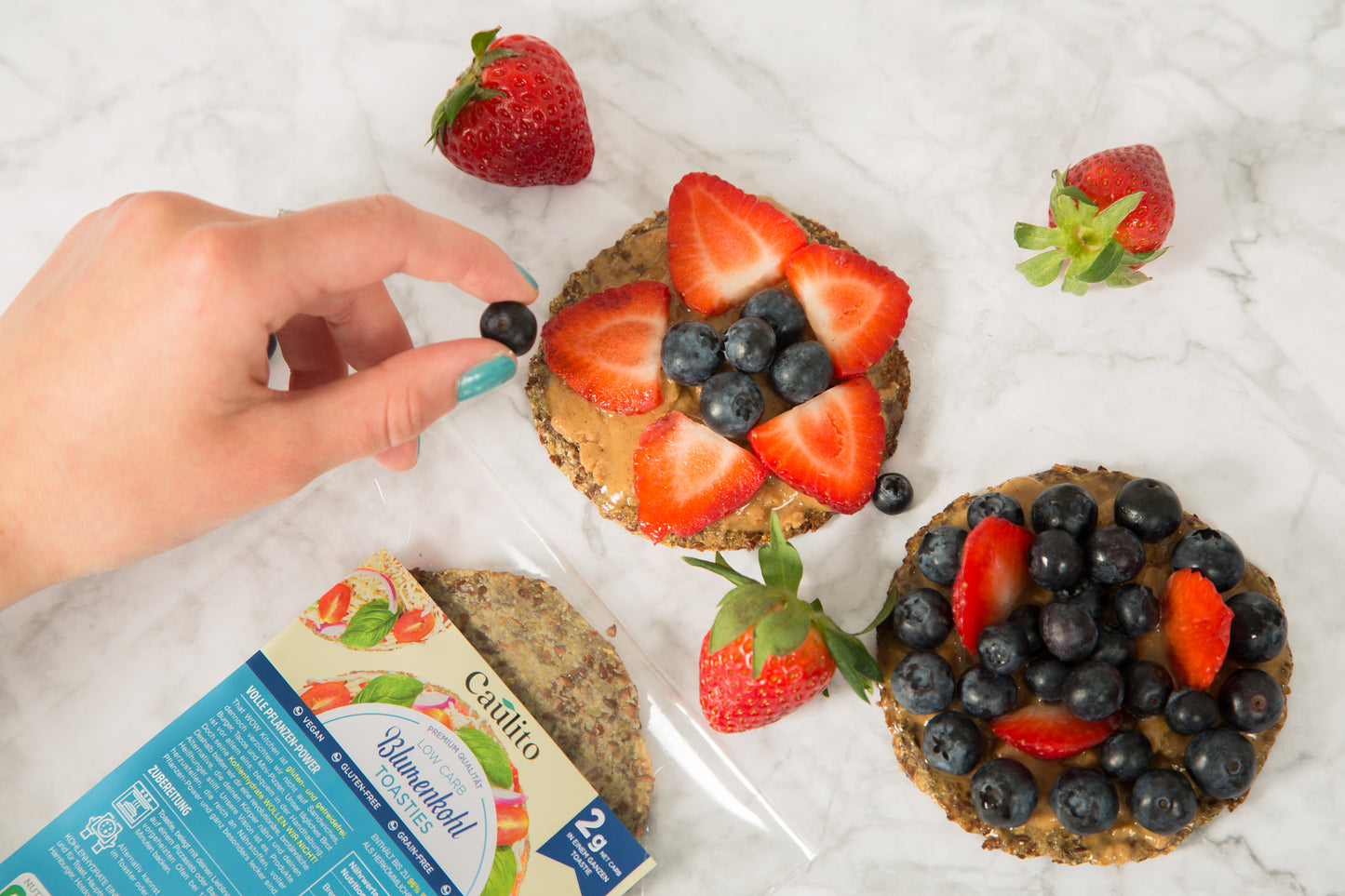 Sehr lecker , sehr schnelle Lieferung , alles top
Tolles, mit wenig Aufwand einfach zuzubereiten und vielseitig gestaltbares Gericht . Sehr guter Kundenservice.
Liebe Cathrin, vielen Dank für dein Feedback. Wir stellen alle Produkte in Handarbeit in Leipzig aus hochwertigen Low-Carb-Zutaten her. Es freut uns wirklich sehr, dass dir die Caulito Produkte gefallen haben. Wir hoffen, dich bald wieder im Laden zu sehen. ❤️
Mein neuer Brot-Ersatz zum Frühstück und Mittagessen! By Claudia Schneider
Sie sind meine Lösung für ein Frühstück ohne Kohlenhydrate! Sie sind so lecker, dass man wirklich vergisst, dass man eigentlich kein Brot isst. Ich mag es, dass ich von der Schwere des Brotes nicht satt werde. Ich mag es, dass sie leicht sind und so viele Möglichkeiten bieten, sie zu essen. Danke, dass du sie gemacht hast
Sandwich Thins sind toll für Mini-Pizzen by Steffan Weber
Ich habe Mini-Pizzen mit den Toasties gemacht. Ich muss noch herausfinden, wie ich sie knuspriger machen kann, aber so konnte ich wieder Pizza essen. Ich habe eine Allergie gegen Gluten und achte auf mein Gewicht. Mit Corona überall habe ich nicht viel Bewegung gehabt - dieses Produkt hat mir in den letzten 6 Monaten sehr geholfen, mein Gewicht in Schach zu halten, den Magen voll von sauberer Güte. Vielen Dank an Caulito, dass ihr das möglich gemacht habt!
Lieben diese
Ich habe diese schon oft bestellt und bin wirklich begeistert. Ich benutze sie für Keto-Toasties und habe sie dann ein paar Mal pro Woche.
Sehr gut!!!
Diese sind großartig! Ich liebe kohlenhydratarme Keto-Toasties und das ist absolut lecker!
Ingredients:
Cauliflower (57%), Flaxseed Flour, Water, Sunflower Flour, Coconut Flour, Chia Seeds, Psyllium Husks, Vitamin C
| | |
| --- | --- |
| Nutritional Values/ Nutritional Information | per 100 g |
| Brennwert/ Energy | 881,1 kJ / 212,7 kcal |
| Fett/ Fat | 14,1 g |
| -davon ges. Fettsäuren/ of which saturated | 2,3 g |
| Kohlenhydrate / Carbohydrates | 4,1 g |
| -davon Zucker/ of which sugars | 1,9 g |
| Ballaststoffe / Fiber | 13,0 g |
| Eiweiß / Protein | 10,9 g |
| Salz / Salt | 0,1 g |
Das könnte dir auch gefallen