CAULIFLOWER PIZZA COVER - VEGAN (2 per pack) 240g
Garantiert SAFE Checkout
Deliciously dairy-free. Guilt-free. Now finally possible!
Made with 57% cauliflower, flaxseed, sunflower seeds, coconut, chia seeds and psyllium husks.

Up to 96% less carbohydrates than conventional wheat-based pizza crust.
4g net carbohydrates per whole pizza crust.
1 package contains 2 pizzas
Keto-friendly, grain-free and gluten-free
Available in 1-pack (2 crust), 2-pack (4 crust), 4-pack (8 crust), 6-pack (12 crust)
Subscribe and save 10% - keep it in the freezer for a quick (and healthy) meal.

We ship on Monday and Tuesday.
For guaranteed Monday shipping, please order by 12:00 CET on Saturday.
For guaranteed Tuesday shipping, please order by Monday 12:00 CET.

Pro tip: Use a perforated pizza peel to bake the pizza. Baking sheets and sheet pans will not allow the pizza crust to crisp up.
Get answers to your subscription questions here.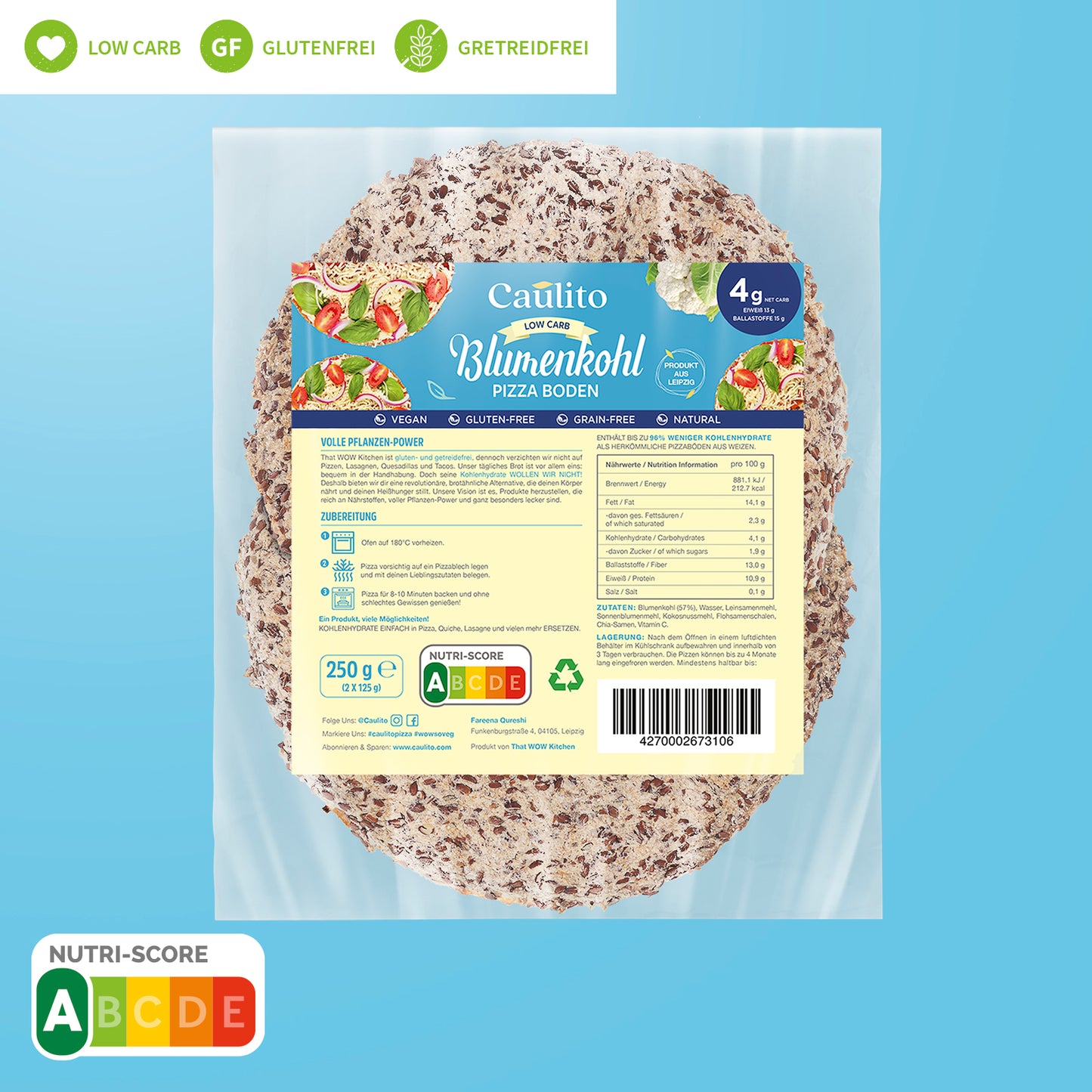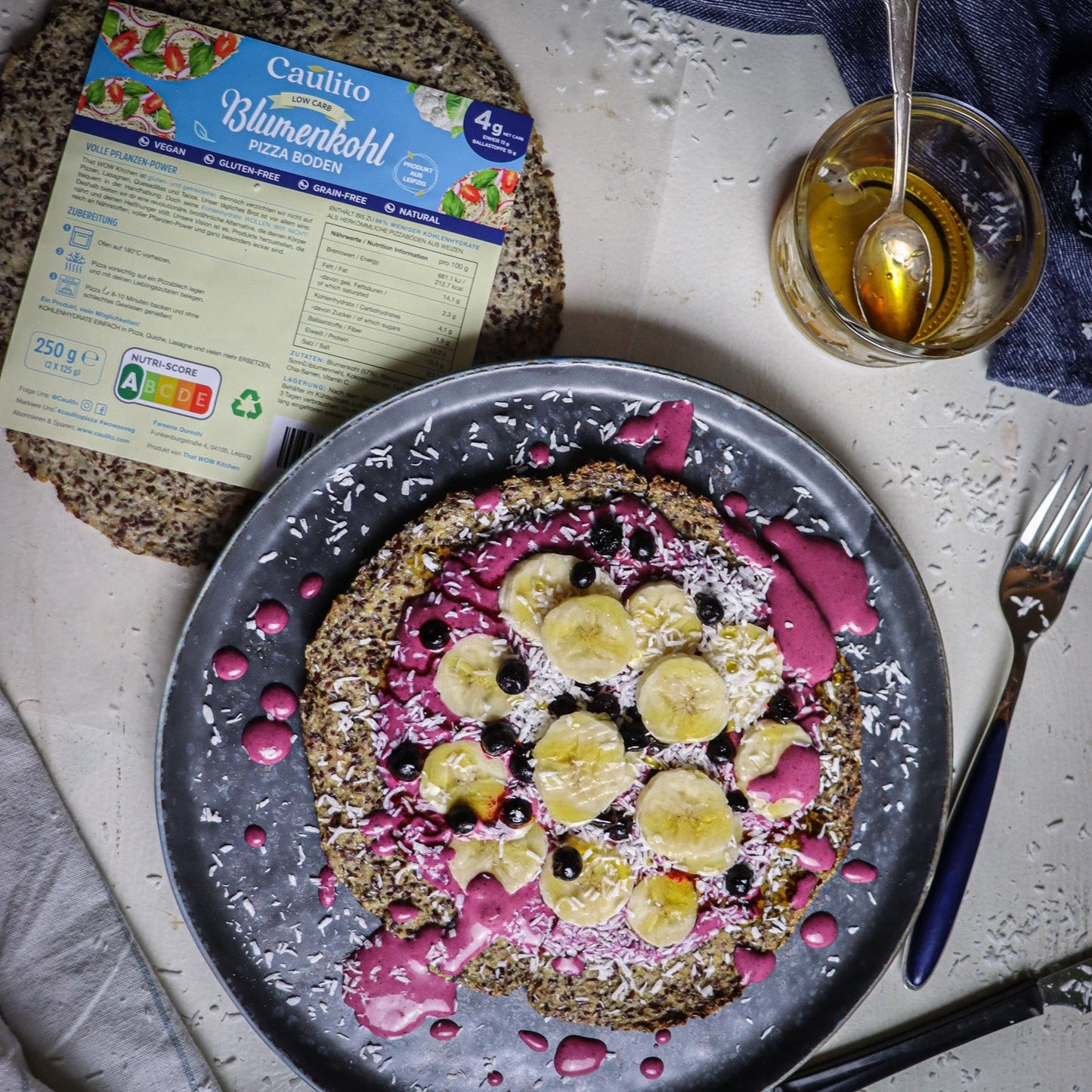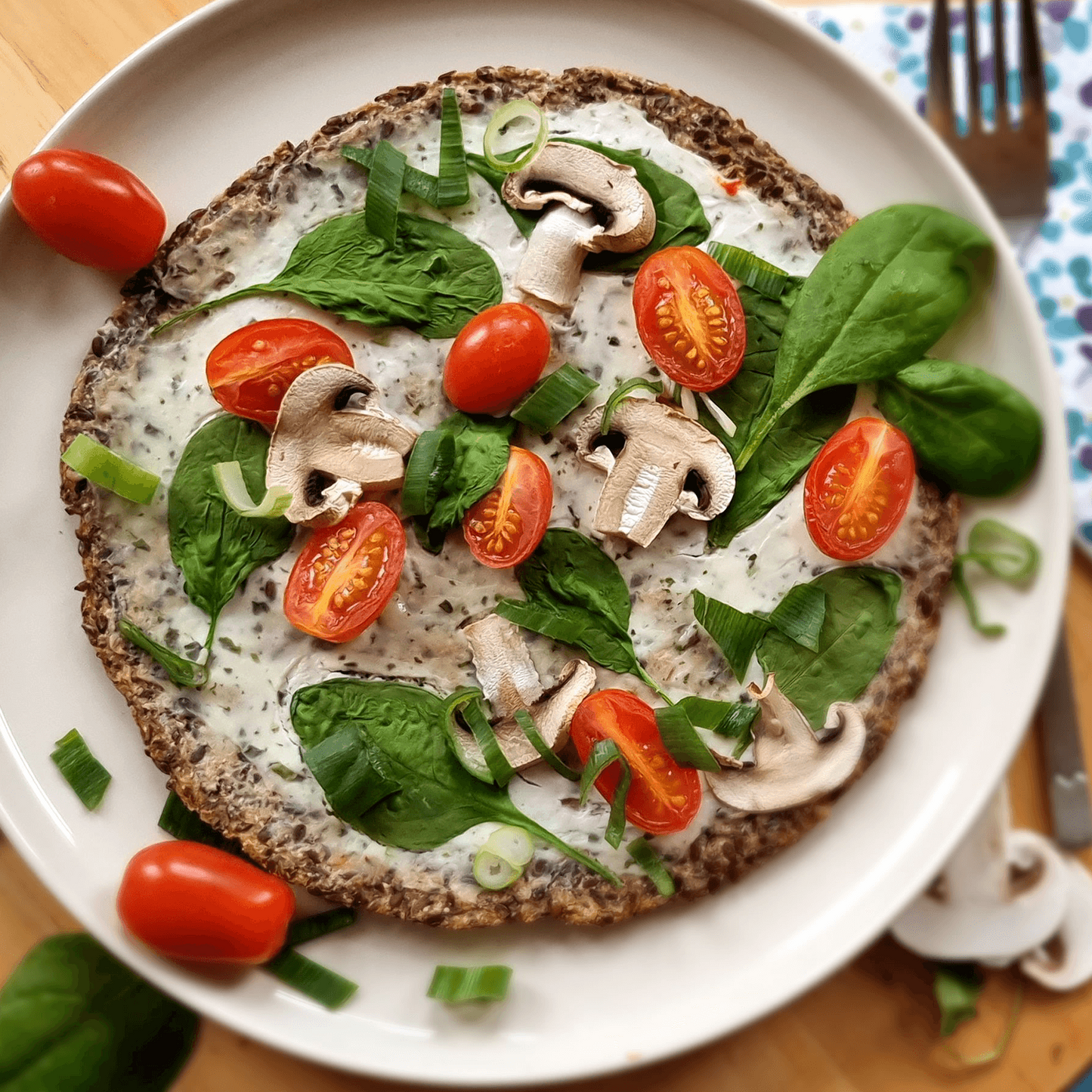 Sehr lecker , schnell und ohne Aufwand zubereitet
Kühlschrank auf und los gehts ! Sehr leckere , vielseitig belegbare Snacks oder vollwertige Mahlzeiten. Auch zum Einfrieren geeignet. Super !
Leckerer, gesunder, schuldfreier by Melanie Lange
Oh mein Gott, ich habe gerade meine erste Caulito-Pizzakruste verschlungen. Zum Glück schlief mein Mann noch auf dem Sofa (ich hätte nie gedacht, dass ich das mal sagen würde!), denn sonst hätte ich teilen müssen. Ich habe meine Pizza nach dem Rezept auf der Website gemacht. PS: Ich habe noch NIE eine Bewertung über irgendetwas geschrieben! Ihr habt eine Kundin fürs Leben! Ich werde ganz sicher noch mehr bestellen.
Diese Pizzaböden sind der Favorit unserer Familie. By Stefanie Hofmann
Wir verbrauchen jede Woche 4 Packungen! Das ist genug für unsere Familie, die viel isst und auch gerne leckeres kohlenhydratarmes Essen isst! So gut!
Low-Carb-Pizza
Pizzaboden ohne ungesunde Zutaten.
Reichhaltig und sättigend, aber trotzdem kalorienarm. Schuldfrei.
Lecker!
Sie sind so lecker. Genießen sie fast jeden Tag.
Ingredients:
Cauliflower (57%), Flaxseed Flour, Water, Sunflower Flour, Coconut Flour, Chia Seeds, Psyllium Husks, Vitamin C
| | |
| --- | --- |
| Nutritional Values/ Nutritional Information | per 100 g |
| Brennwert/ Energy | 881,1 kJ / 212,7 kcal |
| Fett/ Fat | 14,1 g |
| -davon ges. Fettsäuren/ of which saturated | 2,3 g |
| Kohlenhydrate / Carbohydrates | 4,1 g |
| -davon Zucker/ of which sugars | 1,9 g |
| Ballaststoffe / Fiber | 13,0 g |
| Eiweiß / Protein | 10,9 g |
| Salz / Salt | 0,1 g |
Das könnte dir auch gefallen